George Perrin Lt. Col. U.S. Army Retired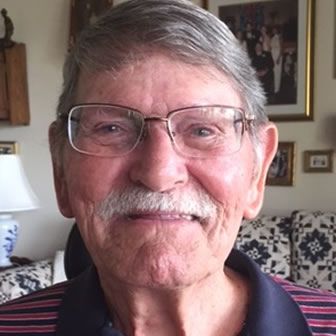 George Elmer Perrin was born 15 July 1931 at Ft. Sam Houston hospital in San Antonio, TX to Bessie and Elmer Perrin.
George's father, Lt. Col. Elmer Perrin was a pilot in The Army Air Corps and was testing a B-26 Marauder airplane on 21 June 1941 in Maryland for the Glenn L. Martin Company when it crashed. The flight was later found to be sabotaged. Later in 1941 an Air Base was dedicated in the name of Lt. Col. Perrin in Denison, TX. His son George was nine years old at the time of his father's death when his family returned to San Antonio.
Upon graduation from high-school George applied for West Point. Following a year of prep school in Washington, DC he entered West Point in 1950. He graduated in 1954 as a 2nd Lt. in Field Artillery.
His postings are many and include; General Opps in Ft. Sill, OK. Jump school in Ft Benning, GA. He was a Genera's aide at Ft. McPherson, GA. In Friedberg, Germany he was serving as a Company Commander when he met and married his wife Carolee Higgins the daughter of a Naval Captain who was stationed in Heidelberg, Germany.
George is a graduate of General Staff College in Ft. Leavenworth, KS and holds a Masters Degree in Technology Management from Washington, DC.
In 1964-65 he served in Vietnam as a sub sector advisor. In Germany he served as a Battalion Commander and Director of the weapons assembly department. In 1971-72 he again served in Saigon Vietnam as a J3 and he retired from the Army in 1976.
George was awarded numerous ribbons and medals during his military career including The Bronze Star for "Meritorious Achievement in Ground Operations Against Hostile Forces" dated 24 August 1962. Today, he and his wife Carolee live in South Florida.
George was a veteran visited by a veteran visitor August 26, 2015